The holding company of Hong Kong's Apple Daily newspaper has seen its stock rise fourfold, a day after the arrest of its owner Jimmy Lai...
The holding company of Hong Kong's Apple Daily newspaper has seen its stock rise fourfold, a day after the arrest of its owner Jimmy Lai.
Mr Lai was arrested on Monday under a controversial security law imposed by Beijing, but has now been bailed. The pro-democracy tycoon was among 10 people detained on charges including colluding with foreign forces.
But Hong Kongers have rallied behind the newspaper, buying stocks in the company. The stock closed on Tuesday at HK$1.10, up from its close of HK$0.255 just 24 hours before.
The paper, which offers a rare, unvarnished take on Hong Kong and China's leadership, said more than 500,000 copies were printed, five times the usual number.
In extraordinary scenes streamed by the paper on Monday, a handcuffed Mr Lai was led through his newsroom as nearly 200 police officers raided the building.
The move sparked global condemnation of the escalating crackdown on dissent. US Secretary of State Mike Pompeo said China had "eviscerated Hong Kong's freedoms".
On Tuesday, the newspaper's front page showed an image of Mr Lai in handcuffs with the headline: "Apple Daily must fight on."
He was released on bail early on Wednesday local time and greeted by a crowd of cheering supporters.
Hong Kongers rally behind the paper
In some parts of the city Hong Kongers were seen queuing for a copy as early as 02:30 as vendors reported selling out of the popular tabloid founded by Mr Lai.
"(I bought these) to hand them out to others, I'm afraid a lot of people can`t get their copies," a woman, who only gave her name as Chan, told the BBC while buying 16 copies.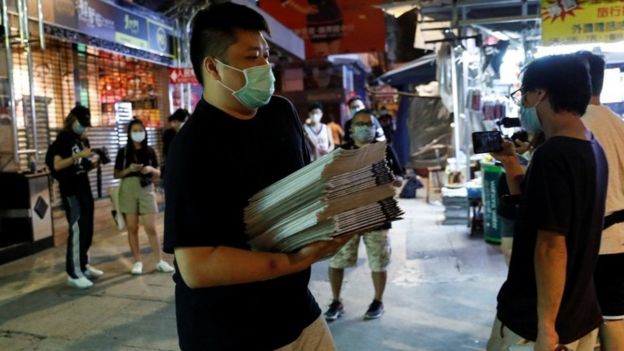 Sales Have Gone up
Online subscriptions are also reportedly up 20,000 this week.
Shares of holding company Next Digital, which had initially dropped on Monday, almost reached a 12-year high on Tuesday.
This came as activists called for supporters to buy the stock. However, there are concerns that investors with ties to the mainland could also be buying up shares.
Louise Wong, a senior executive at Next Digital,
told the Nikkei Asian Review
that "if someone could get over 5% of the holdings, he or she could ask for a seat on the board".
Global outcry
Mr Lai, who is viewed as a hero by many in Hong Kong for his direct criticism of Beijing's top leadership, is the highest-profile detainee under use of the new legislation so far.
But on the mainland, he has long been labelled a traitor. Hours after his arrest, prominent youth activist Agnes Chow and Wilson Li, a freelance journalist, were also arrested under the same law.
Ms Chow was released on bail late on Tuesday. She told reporters: "It's very obvious that the regime is using the national security law to suppress political dissidents."
The arrests renewed criticism from Washington, London and the United Nations of attacks on the city's freedoms.
"I'm deeply troubled by reports of the arrest of
@JimmyLaiApple
under Hong Kong's draconian National Security Law," tweeted US Secretary of State Mike Pompeo.
"Further proof that the CCP [Chinese Communist Party] has eviscerated Hong Kong's freedoms and eroded the rights of its people," he wrote.
Similar sentiments were expressed in Britain, which has already said it will suspend its extradition treaty with Hong Kong and offer a pathway to citizenship for many of the city's residents, in the light of the new law.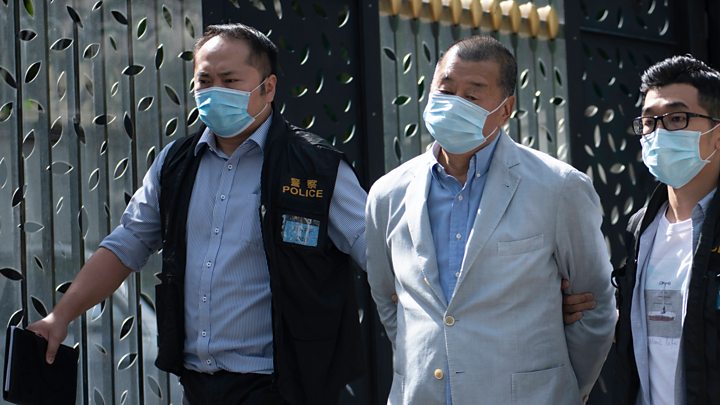 Apple Daily Owner Arrested
"This is further evidence that the national security law is being used as a pretext to silence opposition," a spokesman for Prime Minister Boris Johnson told Reuters. "The Hong Kong authorities must uphold the rights and freedoms of its people."
The controversial security law introduced to Hong Kong in June had already prompted some of the city's highest-profile activists to flee overseas in anticipation of a broader clampdown on the city's freedoms.
Pro-democracy protests flared in Hong Kong last year over plans to allow extradition from the territory to mainland China. While this proposal was eventually withdrawn, the demonstrations carried on, to reflect widespread demands for democratic reforms.
Tinzwei Is A Worth Voyage For Those In Pursuit For Up-To-Date World Events.
Read More At The Online Coronavirus Portal Or Use The 24-Hour Public Hotline:South Africa:
0800 029 999 or just Send Hie to 0600 123 456 on
WhatsApp